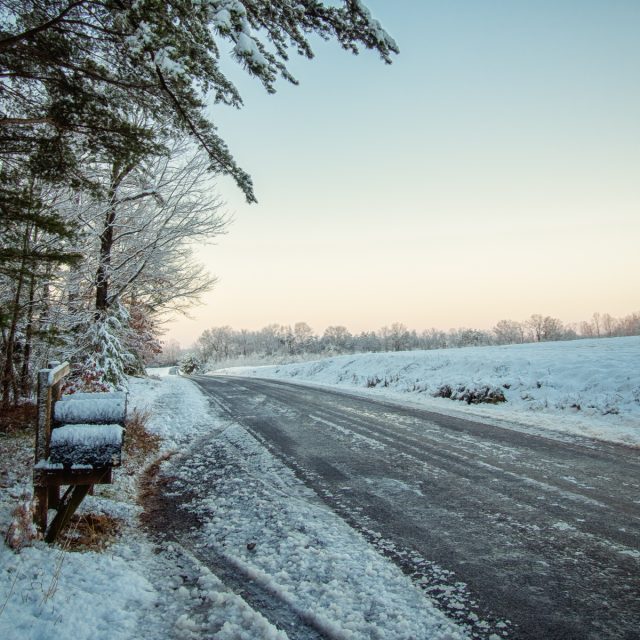 Snow Day – Road – Photo
The other week my camera sold. I'd been contemplating a switch/downgrade/sideways step to an older full frame camera. I listed my crop sensor camera for sale and then went about life without worrying about it. I figured if it sold fine, if not that would be fine too.
And then it sold.
I kind of freaked out because I knew that I was going to need to take some images for the blog in the coming few weeks.
And as usually happens once I decide to do something… I started to re-research my decision to move to an older full frame camera – and I changed my mind. At least I decided to try something else before I moved whole heartedly to the full frame system.
I decided to try the Olympus OMD – EM5, a micro four thirds camera system. I'd read a whole lot of good things about it and was willing to give it a shot. If I didn't like it I could return it. If I liked it and it did what I needed it to I would keep it.
Not A Review
I don't want to get into writing reviews. Although testing new gear every few weeks would be interesting and lots of fun. It would take a lot of time, time that I don't have.
The first thing I noticed about the OMD-EM5 was the size. It was tiny. But it functioned exactly like a small DSLR (ok… sort of.).
The second thing I noticed was that I really liked it. Burst rates of something like 10 frames per second an insane image stabilization system, a touch screen, full manual, aperture priority – it seemed like the perfect little camera.
I'll fill you in a bit more tomorrow on how the little camera fared. I need to run along here pretty soon.
Technically – In Terms of Processing
The nice thing about the burst rate on the little OMD is that you can set it to shoot a three or five bracket set of images… and almost get away with handholding the bracketed set for HDR.
That's what I did here. It worked fairly well, but there were a few issues with lining up the images.
So this was a three exposure HDR. I did my usual merge to HDR in Photoshop and then did exposure and general developing stuff back in Lightroom on a 32 bit tiff.
I did play with this image in Nik's Color Efex and then made a copy of the image that I worked on in Nik's Viveza. These two images were blended together in Photoshop. Not so much because they needed to be, but more because I felt like playing with them…
That was about it. A few final tweaks in Lightroom and it was time to export it.
Thanks for stopping by!